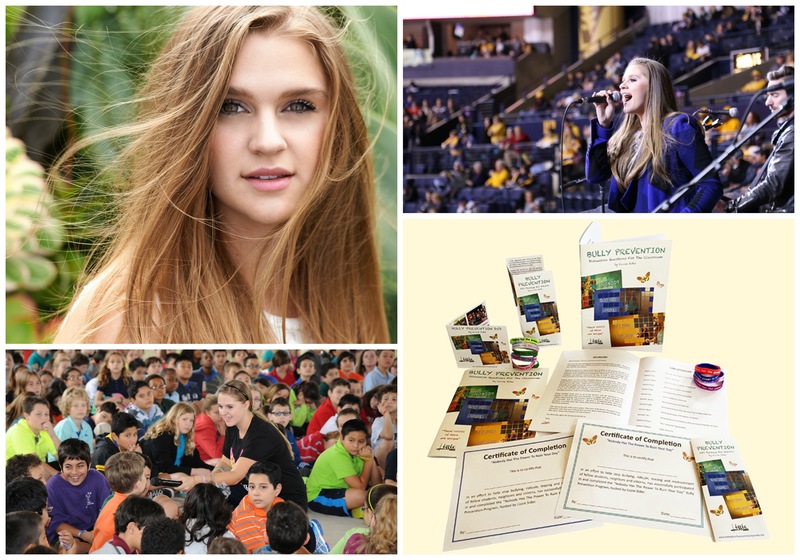 Oct 14, 2016
Posted at 4:26 PM
PRESS RELEASEÂ — No Cost Bully Prevention Video Package — ESS Entertainment | PRLog
PRESS RELEASE – No Cost Bully Prevention Video Package – ESS Entertainment | PRLog

Nearly 1 Million Students To Benefit From Newly Released Bully Prevention Video Package by Top 40 Nashville Recording Artist, 18 Year Old, Lizzie Sider

BOCA RATON, Fla. – Oct. 4, 2016 – PRLog — Top 40, Nashville singer-songwriter and actress, 18 year old, Lizzie Sider, has just announced the official release of her 2016-2017 academic year Bully Prevention Video Package, that she is offering to all USA schools, camps and youth organizations, free of charge, through her 501c3 nonprofit Foundation, Nobody Has The Power To Ruin Your Day.
Lizzie has already performed her live Bully Prevention Assembly at more than 350 schools for more than 150,000 elementary and middle school students, around the country.

Already, over 1300 schools from all 50 states, representing nearly 800,000 students, have requested this new video package, thus, bringing the number of students benefiting from Lizzie's Bully Prevention Program, to near 1 Million.

The new Video Package includes (1) Lizzie's original 36 minute Bully Prevention Video that is hosted by Lizzie and was recorded in a professional TV studio with a live student audience, (2) Lizzie's personally written Booklet of Discussion Questions about bullying, and (3) Certificates of Completion for the students.

Here is a link to a 1 minute promo about the video https://goo.gl/TBE8up.

Here is the direct link for schools to easily sign up to receive the package: http://nobodyhasthepowertoruinyourday.org/school-sign-up/

In the video, Lizzie interacts with the studio audience of students ages 8-17, offering many suggestions to help kids cope with and how to react to bullying, as well as offering suggestions on how bullying might be stopped altogether.

The theme song of the video, is Lizzie's debut radio single, "Butterfly", that made the Top 40 on Nashville's Music Row Chart, that Lizzie co-wrote about how she, herself, was teased, ridiculed and excluded by the other kids, when she was in early elementary school.
Lizzie will be in NYC September 18-21, 2016, to promote the new release of her Bully Prevention Video Package and is available for live and phone-in interviews.

Lizzie asks that you please join with her in her efforts against bullying, by reporting on the availability of this new release.

Lizzie will then be in Washington DC Oct 24-28, meeting with Congressional Staffers and with several Educators' Associations about potential partnerships, funding and expanding the reach of her Bully Prevention Campaign. This includes meeting with the NEA-The National Educators Association, the largest association of educators in the USA, with about 2,400,000 members.

More on Lizzie Sider:

Lizzie recently solely wrote and then recorded "Summer Love Song", that plays in the opening scene of a new Hallmark Movie Channel movie called, "A Time to Dance" starring Jenny Garth and Corbin Bernsen.

Lizzie is currently performing, 6 nights per week, at The Jackson Hole Playhouse, a live professional theater, in Jackson Hole, WY, in a musical-comedic-dance filled adaptation of the 1965 Academy Award winning movie, "The Ballad of Cat Ballou" which starred Lee Marvin and Jane Fonda. The show started in May and ran through Oct 1, 2016.

Here are links to a few of Lizzie's latest songs, all written or co-written by Lizzie, and produced by renown Nashville veteran, James Stroud:

HATE TO BREAK IT TO YOU – (a girl strong break up song to the over confident boy)

IN COLOR – (written alone by Lizzie, this is a timely ballad about intolerance, and society's views on relationships that are not of the accepted norm).

LIKE A GIRL – (Big time fun and upbeat Lizzie's "Girl Anthem")

Lizzie has over 100,000 FB followers, over 60,000 Twitter followers and over 1,000,000 views of her Butterfly song on YouTube.

Media Contact
Nobody Has The Power To Ruin Your Day
Don Sider, Manager (c 561-289-4456)
561-391-1100
[email protected]

Photos:
http://www.prlog.org/12590843/3
http://www.prlog.org/12590843/4
http://www.prlog.org/12590843/5
END

Source : ESS Entertainment
Email : [email protected]
Tags : Lizzie Sider, Bully Prevention, Education, Elementary School, Middle School, School Counselor, Teacher, Parents, Children, Entertainment Industry : Education, Family, Free, Lifestyle, Media, Music, Services, Society, Sports
Location : Boca Raton – Florida – United States

Disclaimer Report Abuse

Brenda Brown Entertainment, LLC PRs